Zombie Panic: Source Game Hosting
What is Zombie Panic: Source
Dive into the zombie apocalypse with Zombie Panic! Source: a cooperative, survival-horror first-person-shooter. A fast-paced standalone modification.
Choose your team as the undead or a survivor. Enjoy their unique abilities, weapons, and challenges in this high-paced, action-packed thriller.

The Teams

As a survivor, unlock large arsenals of firearms, explosives and improvised melee weapons. Can you stop the waves of undead? Will you engage the horde head-on, or barricade and fortify while your friends play sniper? If all else fails, Panic! Then run as if your lives depend on it… for they surely do.

As a zombie, you're free to hunt the living like the rabid beast you are. Feast upon their flesh and unlock your inner berserker. Heightened zombie night-vision gives you the upper hand in dark environments. Infect survivors as the carrier zombie (patient zero), to weaken their defenses, then sadistically watch them turn on each other. Use it all to your advantage to strategics, ambush, conquer and destroy your oblivious living counterparts.

Gamemode

Zombie Panic! Source hosts a variety of game modes for excellent replayability. Explore the zombie apocalypse with: Survival Mode: Put your ability to scavenge and survive to the test. Easily the top player choice.
Objective Mode: You're on a mission. Whether it's to escape or defeat the horde, you'd better use your brainz to find those keys, get the power back on, hack that computer, and get to the chopper! Otherwise… I think you know what happens.
Hardcore Mode: For experienced zombie connoisseurs, you and your teammates get to enjoy pitting yourselves against extra tough foes, and even rougher odds.
Read More
Dive into the zombie apocalypse with Zombie Panic! Source: a cooperative, survival-horror first-person-shooter. A fast-paced standalone modification.
Choose your team as the undead or a survivor. Enjoy their unique abilities, weapons, and challenges in this high-paced, action-packed thriller.

The Teams

As a survivor, unlock large arsenals of firearms, explosives and improvised melee weapons. Can you stop the waves of undead? Will you engage the horde head-on, or barricade and fortify while your friends play sniper? If all else fails, Panic! Then run as if your lives depend on it… for they surely do.

As a zombie, you're free to hunt the living like the rabid beast you are. Feast upon their flesh and unlock your inner berserker. Heightened zombie night-vision gives you the upper hand in dark environments. Infect survivors as the carrier zombie (patient zero), to weaken their defenses, then sadistically watch them turn on each other. Use it all to your advantage to strategics, ambush, conquer and destroy your oblivious living counterparts.

Gamemode

Zombie Panic! Source hosts a variety of game modes for excellent replayability. Explore the zombie apocalypse with: Survival Mode: Put your ability to scavenge and survive to the test. Easily the top player choice.
Objective Mode: You're on a mission. Whether it's to escape or defeat the horde, you'd better use your brainz to find those keys, get the power back on, hack that computer, and get to the chopper! Otherwise… I think you know what happens.
Hardcore Mode: For experienced zombie connoisseurs, you and your teammates get to enjoy pitting yourselves against extra tough foes, and even rougher odds.

All our Game Server Services come with the features you need
Check out all of the essential Dedicated Game Servers game server features that come with your server rental
---
Instant server setup
Switch locations at any time
Full FTP access
Full database access
Scheduled server Scripts\Backups
Latest versions of supported mods
Control Panel - modify server settings
High Performance Xeon processors
integrated backup
Server passlocking / map changing
Advanced DDoS Protection
Highly Customized Tcadmin control panel
Change mods easily
Add admins in one click
Install mods & plugins easily
Access to 3rd-party tools
Custom launch parameters
Server status - Start / Stop / Restart
Access to our Game Server Management Panel
Our full featured, game control panel allows you to configure and customize your game servers. Install supported mods / maps, switch locations, and change any setting with one click.
Full Control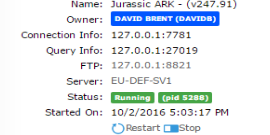 Start, Stop, Reinstall, you have full control over your server with one click. You can schedule tasks to run scripts, backups and more!
One click install Mod Solutions
Switch to and install mods at any time with one click, straight from our game control panel, latest updates are always available
Worldwide Coverage
Citadel Servers offers Network coverage worldwide, providing the very best network coverage in over
18

locations, Connect to your players all around the world, with a low latency infrastructure solution no matter where you or your players may be!
Deploy your Zombie Panic: Source game server
Click here to configure your server and have it deployed and live in minutes!