ROKH Game Hosting
What is ROKH
Players will have to work together to overcome the many threats they will have to face on planet Mars.

Created by team members behind Thief, Half Life 2, Dishonored, Age of Conan and Assassin's Creed, ROKH is an adaptive survival game that is built on top of Unreal Engine 4 and deeply rooted in science. Players will land on Mars to find that the previously developed human colonies have been decimated and they must work together to overcome and survive. ROKH features a persistent world and co-op multiplayer. Read More
Players will have to work together to overcome the many threats they will have to face on planet Mars.

Created by team members behind Thief, Half Life 2, Dishonored, Age of Conan and Assassin's Creed, ROKH is an adaptive survival game that is built on top of Unreal Engine 4 and deeply rooted in science. Players will land on Mars to find that the previously developed human colonies have been decimated and they must work together to overcome and survive. ROKH features a persistent world and co-op multiplayer.

In ROKH, players explore the Martian landscape as they scavenge through the deserted structures to gather the resources they need in order to survive. With few blueprints, they must use their ingenuity to create tools from a variety of materials and construct their own encampments with no design limitations - giving new meaning to "Assembly Required."

ROKH is a complete immersion into a cold and dry land that harbors a wealth of resources to extract and exploit. Players will explore Mars, paving the way for settlers to come, as Earth's resources are tapped and the planet is dying. Mars is hostile and joining forces with friends increases efficiency and invites trade and barter to develop a habitable, yet, customized ecosystem. ROKH is a mix of crafting, survival and exploration with an overarching story, that allows to freeform and build a colony how they want.

Our ROKH servers are the cheapest prices on the market, meaning that you can now play your favorite game for less. With server hosting you are able to jump in and out of your game with out the fear of your world not being online because your friend who is hosting it on their machine is not on. With 24/7 access and great customer support we will have playing in no time.
All our Game Server Services come with the features you need
Check out all of the essential Dedicated Game Servers game server features that come with your server rental
---
Instant server setup
Switch locations at any time
Full FTP access
Full database access
Scheduled server Scripts\Backups
Latest versions of supported mods
Control Panel - modify server settings
High Performance Xeon processors
integrated backup
Server passlocking / map changing
Advanced DDoS Protection
Highly Customized Tcadmin control panel
Change mods easily
Add admins in one click
Install mods & plugins easily
Access to 3rd-party tools
Custom launch parameters
Server status - Start / Stop / Restart
Access to our Game Server Management Panel
Our full featured, game control panel allows you to configure and customize your game servers. Install supported mods / maps, switch locations, and change any setting with one click.
Full Control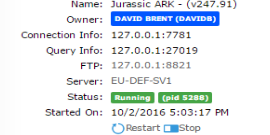 Start, Stop, Reinstall, you have full control over your server with one click. You can schedule tasks to run scripts, backups and more!
One click install Mod Solutions
Switch to and install mods at any time with one click, straight from our game control panel, latest updates are always available
Worldwide Coverage
Citadel Servers offers Network coverage worldwide, providing the very best network coverage in over
18

locations, Connect to your players all around the world, with a low latency infrastructure solution no matter where you or your players may be!
Deploy your ROKH game server
Click here to configure your server and have it deployed and live in minutes!