Post Scriptum Game Hosting
What is Post Scriptum
Post Scriptum is a WW2 simulation game, focusing on historical accuracy, large scale battle, difficult learning curve and an intense need for cohesion, communication and teamwork. Players will relive the events of 'Operation Market Garden' across the fields and towns of Holland. This massive Allied assault consisted of a coordination of the British and American Airborne to capture key bridges while the British XXXth Corps moved to reinforce them through Highway 69. However, consecutive delays in consolidating ground from the north of Belgium through Nijmegen forced the 1st British Airborne Division in Arnhem to make a stand much longer than anticipated. With no successful link between the XXXth Corps and the Airborne in sight, the seventh and final bridge in Arnhem was considered lost. Read More
Post Scriptum is a WW2 simulation game, focusing on historical accuracy, large scale battle, difficult learning curve and an intense need for cohesion, communication and teamwork. Players will relive the events of 'Operation Market Garden' across the fields and towns of Holland. This massive Allied assault consisted of a coordination of the British and American Airborne to capture key bridges while the British XXXth Corps moved to reinforce them through Highway 69. However, consecutive delays in consolidating ground from the north of Belgium through Nijmegen forced the 1st British Airborne Division in Arnhem to make a stand much longer than anticipated. With no successful link between the XXXth Corps and the Airborne in sight, the seventh and final bridge in Arnhem was considered lost.
All our Game Server Services come with the features you need
Check out all of the essential Dedicated Game Servers game server features that come with your server rental
---
Instant server setup
Switch locations at any time
Full FTP access
Full database access
Scheduled server Scripts\Backups
Latest versions of supported mods
Control Panel - modify server settings
High Performance Xeon processors
integrated backup
Server passlocking / map changing
Advanced DDoS Protection
Highly Customized Tcadmin control panel
Change mods easily
Add admins in one click
Install mods & plugins easily
Access to 3rd-party tools
Custom launch parameters
Server status - Start / Stop / Restart
Access to our Game Server Management Panel
Our full featured, game control panel allows you to configure and customize your game servers. Install supported mods / maps, switch locations, and change any setting with one click.
Full Control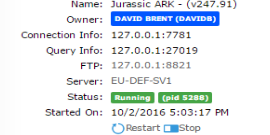 Start, Stop, Reinstall, you have full control over your server with one click. You can schedule tasks to run scripts, backups and more!
One click install Mod Solutions
Switch to and install mods at any time with one click, straight from our game control panel, latest updates are always available
Worldwide Coverage
Citadel Servers offers Network coverage worldwide, providing the very best network coverage in over
18

locations, Connect to your players all around the world, with a low latency infrastructure solution no matter where you or your players may be!
Deploy your Post Scriptum game server
Click here to configure your server and have it deployed and live in minutes!