Night of the Dead Game Hosting
What is Night of the Dead
Zombies, Base Building, Survival: Night of the Dead now available In Night of the Dead, people who were part of an experiment have to fight for survival on an island. The island itself has been taken over by zombies that hunt you and your friends at night.

To survive the nightly waves, teamwork is required. Together with your friends you will prepare for battle during the day

You collect resources, expand your base and create weapons and traps to keep the zombies away.

Third-Person Storytelling
In Night of the Dead you play in third person and find diaries on the island, which tell you more about the events on the island. At the same time you will also learn how to escape the deadly experiment.

The survival aspect plays an important role: To survive you have to prove yourself as a farmer and grow your own food. After the harvest, the food will be prepared by a cook, so that you can go into the nightly battle stronger.

The development of Night of the Dead
Night of the Dead is developed by the two-man "Jacktostudio" and has been available on Steam in Early Access since August 28, 2020. We are happy to offer you servers for the new Survival Hit from now on!

Night of the Dead Server rental in the high-end prepaid solution from Citadel Servers
You can immediately rent your own Night of the Dead server. Prepaid and in the Gamecloud. This means you have no contractual obligation and can switch between the different games in our Gamecloud at any time. You don't feel like playing Night of the Dead right now? Then use your slots for an ARK server and if you want to go hunting again next weekend, just switch back to Night of the Dead. Full flexibility and immediately online, that's the Citadel Servers Gamecloud.
Read More
Zombies, Base Building, Survival: Night of the Dead now available In Night of the Dead, people who were part of an experiment have to fight for survival on an island. The island itself has been taken over by zombies that hunt you and your friends at night.

To survive the nightly waves, teamwork is required. Together with your friends you will prepare for battle during the day

You collect resources, expand your base and create weapons and traps to keep the zombies away.

Third-Person Storytelling
In Night of the Dead you play in third person and find diaries on the island, which tell you more about the events on the island. At the same time you will also learn how to escape the deadly experiment.

The survival aspect plays an important role: To survive you have to prove yourself as a farmer and grow your own food. After the harvest, the food will be prepared by a cook, so that you can go into the nightly battle stronger.

The development of Night of the Dead
Night of the Dead is developed by the two-man "Jacktostudio" and has been available on Steam in Early Access since August 28, 2020. We are happy to offer you servers for the new Survival Hit from now on!

Night of the Dead Server rental in the high-end prepaid solution from Citadel Servers
You can immediately rent your own Night of the Dead server. Prepaid and in the Gamecloud. This means you have no contractual obligation and can switch between the different games in our Gamecloud at any time. You don't feel like playing Night of the Dead right now? Then use your slots for an ARK server and if you want to go hunting again next weekend, just switch back to Night of the Dead. Full flexibility and immediately online, that's the Citadel Servers Gamecloud.

All our Game Server Services come with the features you need
Check out all of the essential Dedicated Game Servers game server features that come with your server rental
---
Instant server setup
Switch locations at any time
Full FTP access
Full database access
Scheduled server Scripts\Backups
Latest versions of supported mods
Control Panel - modify server settings
High Performance Xeon processors
integrated backup
Server passlocking / map changing
Advanced DDoS Protection
Highly Customized Tcadmin control panel
Change mods easily
Add admins in one click
Install mods & plugins easily
Access to 3rd-party tools
Custom launch parameters
Server status - Start / Stop / Restart
Access to our Game Server Management Panel
Our full featured, game control panel allows you to configure and customize your game servers. Install supported mods / maps, switch locations, and change any setting with one click.
Full Control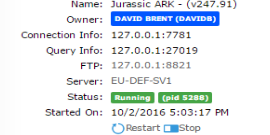 Start, Stop, Reinstall, you have full control over your server with one click. You can schedule tasks to run scripts, backups and more!
One click install Mod Solutions
Switch to and install mods at any time with one click, straight from our game control panel, latest updates are always available
Worldwide Coverage
Citadel Servers offers Network coverage worldwide, providing the very best network coverage in over
18

locations, Connect to your players all around the world, with a low latency infrastructure solution no matter where you or your players may be!
Deploy your Night of the Dead game server
Click here to configure your server and have it deployed and live in minutes!