HogWarp Game Hosting
What is HogWarp
The team behind the Skyrim Together Reborn multiplayer mod has turned its attention to something new: HogWarp, a multiplayer mod for Hogwarts Legacy. Hogwarts Legacy is a big, sprawling game, and its setting and story—a tale of kids attending a massive, ancient magic school—is a natural fit for some sort of multiplayer component. Yet it's strictly a singleplayer game. That may not be the case forever, though. HogWarp, like Skyrim Together, is designed to give players the ability to congregate and play together in the famed school of magic. And it's not just an idle dream: Even though Hogwarts Legacy only went into full release on Friday, the Together Team has already shared a video of a test build in action. There's not a whole lot going on, but that's definitely two students running around in one Hogwarts. Coming Soon Read More
The team behind the Skyrim Together Reborn multiplayer mod has turned its attention to something new: HogWarp, a multiplayer mod for Hogwarts Legacy. Hogwarts Legacy is a big, sprawling game, and its setting and story—a tale of kids attending a massive, ancient magic school—is a natural fit for some sort of multiplayer component. Yet it's strictly a singleplayer game. That may not be the case forever, though. HogWarp, like Skyrim Together, is designed to give players the ability to congregate and play together in the famed school of magic. And it's not just an idle dream: Even though Hogwarts Legacy only went into full release on Friday, the Together Team has already shared a video of a test build in action. There's not a whole lot going on, but that's definitely two students running around in one Hogwarts. Coming Soon
All our Game Server Services come with the features you need
Check out all of the essential Dedicated Game Servers game server features that come with your server rental
---
Instant server setup
Switch locations at any time
Full FTP access
Full database access
Scheduled server Scripts\Backups
Latest versions of supported mods
Control Panel - modify server settings
High Performance Xeon processors
integrated backup
Server passlocking / map changing
Advanced DDoS Protection
Highly Customized Tcadmin control panel
Change mods easily
Add admins in one click
Install mods & plugins easily
Access to 3rd-party tools
Custom launch parameters
Server status - Start / Stop / Restart
Access to our Game Server Management Panel
Our full featured, game control panel allows you to configure and customize your game servers. Install supported mods / maps, switch locations, and change any setting with one click.
Full Control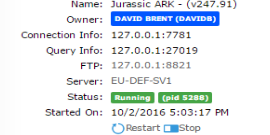 Start, Stop, Reinstall, you have full control over your server with one click. You can schedule tasks to run scripts, backups and more!
One click install Mod Solutions
Switch to and install mods at any time with one click, straight from our game control panel, latest updates are always available
Worldwide Coverage
Citadel Servers offers Network coverage worldwide, providing the very best network coverage in over
18

locations, Connect to your players all around the world, with a low latency infrastructure solution no matter where you or your players may be!
Deploy your HogWarp game server
Click here to configure your server and have it deployed and live in minutes!