Grand Theft Auto 5: RAGE:MP Game Hosting
What is Grand Theft Auto 5: RAGE:MP
Have you ever imagined playing on a server with hundreds of players, at the same time? Stop dreaming, because your dreams just became a reality. Get your private hosting server and get the party starting. RAGE MP has no limits and gives you total control over everything. The only limit is your imagination. Read More
Have you ever imagined playing on a server with hundreds of players, at the same time? Stop dreaming, because your dreams just became a reality. Get your private hosting server and get the party starting. RAGE MP has no limits and gives you total control over everything. The only limit is your imagination.
What is supported/synced in Grand Theft Auto: RAGE: Multiplayer with Citadel Servers?
Everything is supported, Peds, Vehicles (Cars, bikes, planes, boats etc) We offer many one click mod installs for GTA 5 RAGE Multiplayer, want to start your own police server? We have you covered with one click police install mods, scripts and custom vehicles\models. You can view some of these below. All servers come with MYSQL support, you can fully mod and configure your server with our full-featured game control panel.
We support several different Rage:MP version including development, legacy and current versions
All our Game Server Services come with the features you need
Check out all of the essential Dedicated Game Servers game server features that come with your server rental
---
Instant server setup
Switch locations at any time
Full FTP access
Full database access
Scheduled server Scripts\Backups
Latest versions of supported mods
Control Panel - modify server settings
High Performance Xeon processors
integrated backup
Server passlocking / map changing
Advanced DDoS Protection
Highly Customized Tcadmin control panel
Change mods easily
Add admins in one click
Install mods & plugins easily
Access to 3rd-party tools
Custom launch parameters
Server status - Start / Stop / Restart
Access to our Game Server Management Panel
Our full featured, game control panel allows you to configure and customize your game servers. Install supported mods / maps, switch locations, and change any setting with one click.
Full Control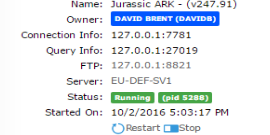 Start, Stop, Reinstall, you have full control over your server with one click. You can schedule tasks to run scripts, backups and more!
One click install Mod Solutions
Switch to and install mods at any time with one click, straight from our game control panel, latest updates are always available
One Click Mod Install Example list:
chat scoreboard mysql-async Freeroam Gamemode Discord MySQL Database support PhpMyAdmin
And hundreds more one-click mods!
We also do custom import\configuration work for a small fee if you need assistance building your perfect server
Worldwide Coverage
Citadel Servers offers Network coverage worldwide, providing the very best network coverage in over
18

locations, Connect to your players all around the world, with a low latency infrastructure solution no matter where you or your players may be!
Deploy your Grand Theft Auto 5: RAGE:MP game server
Click here to configure your server and have it deployed and live in minutes!