ExoCorps Game Hosting
What is ExoCorps
Camouflage and other skills in ExoCorps
A good camouflage is also essential in an action-packed shooter like ExoCorps: The more frequently and longer the Jetpack is being used, the more visible you are to others. In Capture the Flag mode you should therefore think carefully about the route you take to escape from the enemy. If the enemy is on your tail, you can take him and his exosuit out of the sky with a railgun, rocket launchers and other futuristic weapons.

ExoCorps: In the year 2040 everything is different
ExoCorps' developers were inspired by books like "Starship Troopers", movies like "Top Gun" and games like "Tribes" and "Counter-Strike". ExoCorps is set in the year 2040 and brings together all the above pop cultural masterpieces.

The exosuit is half spacesuit, half jet and equipped with the latest weapons. In a duel with over 200km/h you will dive into battle together with friends – on your own Citadel Servers ExoCorps server! Whether Deathmatch, Team Deathmatch or Capture the Flag – we offer high-end game servers in the Citadel Servers Game Cloud. ExoCorps servers for rent in the Citadel Servers high-end prepaid solution
You can immediately rent your own ExoCorps server. Prepaid and in the Gamecloud. This means that you have no contractual obligation and can switch between the different games in our Gamecloud at any time. You don't feel like playing ExoCorps right now? Then use your slots for an ARK server and if you want to go hunting again next weekend, just switch back to ExoCorps. Full flexibility and immediately online, that's the Citadel Servers Game Cloud.
Read More
Camouflage and other skills in ExoCorps
A good camouflage is also essential in an action-packed shooter like ExoCorps: The more frequently and longer the Jetpack is being used, the more visible you are to others. In Capture the Flag mode you should therefore think carefully about the route you take to escape from the enemy. If the enemy is on your tail, you can take him and his exosuit out of the sky with a railgun, rocket launchers and other futuristic weapons.

ExoCorps: In the year 2040 everything is different
ExoCorps' developers were inspired by books like "Starship Troopers", movies like "Top Gun" and games like "Tribes" and "Counter-Strike". ExoCorps is set in the year 2040 and brings together all the above pop cultural masterpieces.

The exosuit is half spacesuit, half jet and equipped with the latest weapons. In a duel with over 200km/h you will dive into battle together with friends – on your own Citadel Servers ExoCorps server! Whether Deathmatch, Team Deathmatch or Capture the Flag – we offer high-end game servers in the Citadel Servers Game Cloud. ExoCorps servers for rent in the Citadel Servers high-end prepaid solution
You can immediately rent your own ExoCorps server. Prepaid and in the Gamecloud. This means that you have no contractual obligation and can switch between the different games in our Gamecloud at any time. You don't feel like playing ExoCorps right now? Then use your slots for an ARK server and if you want to go hunting again next weekend, just switch back to ExoCorps. Full flexibility and immediately online, that's the Citadel Servers Game Cloud.

All our Game Server Services come with the features you need
Check out all of the essential Dedicated Game Servers game server features that come with your server rental
---
Instant server setup
Switch locations at any time
Full FTP access
Full database access
Scheduled server Scripts\Backups
Latest versions of supported mods
Control Panel - modify server settings
High Performance Xeon processors
integrated backup
Server passlocking / map changing
Advanced DDoS Protection
Highly Customized Tcadmin control panel
Change mods easily
Add admins in one click
Install mods & plugins easily
Access to 3rd-party tools
Custom launch parameters
Server status - Start / Stop / Restart
Access to our Game Server Management Panel
Our full featured, game control panel allows you to configure and customize your game servers. Install supported mods / maps, switch locations, and change any setting with one click.
Full Control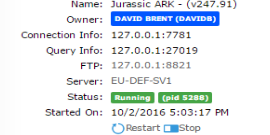 Start, Stop, Reinstall, you have full control over your server with one click. You can schedule tasks to run scripts, backups and more!
One click install Mod Solutions
Switch to and install mods at any time with one click, straight from our game control panel, latest updates are always available
Worldwide Coverage
Citadel Servers offers Network coverage worldwide, providing the very best network coverage in over
18

locations, Connect to your players all around the world, with a low latency infrastructure solution no matter where you or your players may be!
Deploy your ExoCorps game server
Click here to configure your server and have it deployed and live in minutes!