Citadel: Forged with Fire Game Hosting
What is Citadel: Forged with Fire
Citadel: Forged With Fire is a massive online sandbox RPG with elements of magic, spellcasting and inter-kingdom conflict. As a newly minted apprentice of the magic arts, you will set off to investigate the dangerous world of Ignus. Your goal: create a name for yourself and achieve notoriety and power among the land's ruling Houses. Read More
Citadel: Forged With Fire is a massive online sandbox RPG with elements of magic, spellcasting and inter-kingdom conflict. As a newly minted apprentice of the magic arts, you will set off to investigate the dangerous world of Ignus. Your goal: create a name for yourself and achieve notoriety and power among the land's ruling Houses.
Citadel: Forged with Fire - a huge fantasy sandbox epos
Developed by
Blue Isle Studios
delivered with Citadel Forged with Fire a real milestone of a fantasy sandbox game. It's not just super beatiful, thanks to the UE4 Engine, it's also running very smooth. The magical Welt Ignus is built with real passion, many sandbox games can take a leaf out of their book. Citadel is an openworld sandbox game, in this case a mix of Skyrim and Ark, a huge world full of magic, dragons and powerfull wizards. Everything in front of an amazing scenery, but also gameplay elements like taming beasts and mounts or castle/ base building are part of Citadel: Forged With Fire. This mix of genres is a tough task for the developers because of the high expectations of hardcore Skyrim and ARK, but Citadel is right in the place to fullfil those.
Flying brooms and powerful sorceries
The key element of Citadel: Forged with Fire will be mostly to learn and master powerful soceries. Gandalf and Dumbledore will look like little worms compared to you, because as powerful mage, you will be possible to levitate complete castles with spells. You will tame wolves, horses and even dragons with your magic. Get your own dragon and set the world in flames. Join the battle!
Citadel: Forged with Fire game server hosting in the Gamecloud
Rent your own Citadel: Forged with Fire game server now, for up to 60 players, to start your journey into the fabulous world. The available billing methods are Paypal, Paysafecard and credit card, all prepaid and instantly online in your premium Gamecloud. You can easily switch between all games in the Citadel Servers Gamecloud - no binding contract, no waiting time. You don't wanna continue playing Citadel: Forged With Fire? Use your slots for a Rust or ARK server instead. You made a mistake because Citadel is the better game? Don't worry, just switch it back to Citadel.
All our Game Server Services come with the features you need
Check out all of the essential Dedicated Game Servers game server features that come with your server rental
---
Instant server setup
Switch locations at any time
Full FTP access
Full database access
Scheduled server Scripts\Backups
Latest versions of supported mods
Control Panel - modify server settings
High Performance Xeon processors
integrated backup
Server passlocking / map changing
Advanced DDoS Protection
Highly Customized Tcadmin control panel
Change mods easily
Add admins in one click
Install mods & plugins easily
Access to 3rd-party tools
Custom launch parameters
Server status - Start / Stop / Restart
Access to our Game Server Management Panel
Our full featured, game control panel allows you to configure and customize your game servers. Install supported mods / maps, switch locations, and change any setting with one click.
Full Control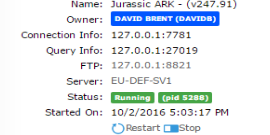 Start, Stop, Reinstall, you have full control over your server with one click. You can schedule tasks to run scripts, backups and more!
One click install Mod Solutions
Switch to and install mods at any time with one click, straight from our game control panel, latest updates are always available
Worldwide Coverage
Citadel Servers offers Network coverage worldwide, providing the very best network coverage in over
18

locations, Connect to your players all around the world, with a low latency infrastructure solution no matter where you or your players may be!
Deploy your Citadel: Forged with Fire game server
Click here to configure your server and have it deployed and live in minutes!