Arma 3 Game Hosting
What is Arma 3
Experience true combat gameplay in a massive military sandbox. Deploying a wide variety of single- and multiplayer content, over 20 vehicles and 40 weapons, and limitless opportunities for content creation, this is the PC's premier military game. Authentic, diverse, open - Arma 3 sends you to war. Read More
Experience true combat gameplay in a massive military sandbox. Deploying a wide variety of single- and multiplayer content, over 20 vehicles and 40 weapons, and limitless opportunities for content creation, this is the PC's premier military game. Authentic, diverse, open - Arma 3 sends you to war.
Includes Arma 3, Arma 3 APEX and all Arma 3 DLC, all in one installation. With the click of a button within our Game control panel you can change map to any of the maps that the game supports. You can also upload your own custom maps and configure the servers maplist with ease. We include a fully automated workshop mod downloader\updater.
| | | | |
| --- | --- | --- | --- |
| Missions | MySQL Database Manager | Code Manager | Workshop Mod Downloader |
All our Game Server Services come with the features you need
Check out all of the essential Dedicated Game Servers game server features that come with your server rental
---
Instant server setup
Switch locations at any time
Full FTP access
Full database access
Scheduled server Scripts\Backups
Latest versions of supported mods
Control Panel - modify server settings
High Performance Xeon processors
integrated backup
Server passlocking / map changing
Advanced DDoS Protection
Highly Customized Tcadmin control panel
Change mods easily
Add admins in one click
Install mods & plugins easily
Access to 3rd-party tools
Custom launch parameters
Server status - Start / Stop / Restart
Access to our Game Server Management Panel
Our full featured, game control panel allows you to configure and customize your game servers. Install supported mods / maps, switch locations, and change any setting with one click.
Full Control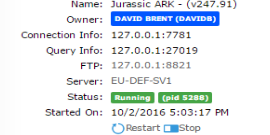 Start, Stop, Reinstall, you have full control over your server with one click. You can schedule tasks to run scripts, backups and more!
One click install Mod Solutions
Switch to and install mods at any time with one click, straight from our game control panel, latest updates are always available
Other One Click Mod Install Example list:
Arma 3 Base game Jets DLC Helicoptors DLC Karts DLC Marksmen DLC Apex Expansion DLC Laws of War DLC Maiden DLC Zeus DLC Tac-Ops Mission Pack DLC CBA-A3 Mod CUP Weapons Mod CUP Terrains Mod CUP Maps Mod CUP Units Mod CUP Vehicles Mod Zombies and Demons mod PLAYERUNKNOWN's Battle Royale RHSUSAF Mod RHSAFRF Mod Epoch Total Conversion Mod Ace Mod NATO Rus Weapons Mod Extended Base Mod Esseker Mod Vietnam Mod Breaking Point Mod RHSSAF Mod Star Wars Mod EA-18G Growler Mod
And hundreds more one-click mods!
We also do custom import\configuration work for a small fee if you need assistance building your perfect server
Worldwide Coverage
Citadel Servers offers Network coverage worldwide, providing the very best network coverage in over
18

locations, Connect to your players all around the world, with a low latency infrastructure solution no matter where you or your players may be!
Deploy your Arma 3 game server
Click here to configure your server and have it deployed and live in minutes!