Star Wars Jedi Knight: Jedi Academy Game Hosting
What is Star Wars Jedi Knight: Jedi Academy
Forge your weapon and follow the path of the Jedi
Jedi Knight: Jedi Academy is the latest instalment of the highly acclaimed Jedi Knight series. Take on the role of a new student eager to learn the ways of the Force from Jedi Master Luke Skywalker. Interact with famous Star Wars characters in many classic Star Wars locations as you face the ultimate choice: fight for good and freedom on the light side or follow the path of power and evil to the dark side.

Customize your character by defining both look and gender before entering the Academy to learn the power-and dangers- of the Force.
Construct your own Lightsaber from handle to blade. As you progress, discover the power of wielding two Lightsabers or the ultimate double-bladed Lightsaber made famous by Darth Maul.
New vehicles, weapons, force powers and Star Wars locations.
Unique level selection system allows you to choose your own missions and adventures.
Six multiplayer modes including team based siege mode and two-on-one power duel. Fight in 23 multiplayer arenas!

Read More
Forge your weapon and follow the path of the Jedi
Jedi Knight: Jedi Academy is the latest instalment of the highly acclaimed Jedi Knight series. Take on the role of a new student eager to learn the ways of the Force from Jedi Master Luke Skywalker. Interact with famous Star Wars characters in many classic Star Wars locations as you face the ultimate choice: fight for good and freedom on the light side or follow the path of power and evil to the dark side.

Customize your character by defining both look and gender before entering the Academy to learn the power-and dangers- of the Force.
Construct your own Lightsaber from handle to blade. As you progress, discover the power of wielding two Lightsabers or the ultimate double-bladed Lightsaber made famous by Darth Maul.
New vehicles, weapons, force powers and Star Wars locations.
Unique level selection system allows you to choose your own missions and adventures.
Six multiplayer modes including team based siege mode and two-on-one power duel. Fight in 23 multiplayer arenas!


All our Game Server Services come with the features you need
Check out all of the essential Dedicated Game Servers game server features that come with your server rental
---
Instant server setup
Switch locations at any time
Full FTP access
Full database access
Scheduled server Scripts\Backups
Latest versions of supported mods
Control Panel - modify server settings
High Performance Xeon processors
integrated backup
Server passlocking / map changing
Advanced DDoS Protection
Highly Customized Tcadmin control panel
Change mods easily
Add admins in one click
Install mods & plugins easily
Access to 3rd-party tools
Custom launch parameters
Server status - Start / Stop / Restart
Access to our Game Server Management Panel
Our full featured, game control panel allows you to configure and customize your game servers. Install supported mods / maps, switch locations, and change any setting with one click.
Full Control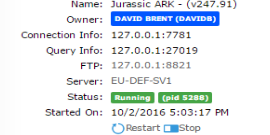 Start, Stop, Reinstall, you have full control over your server with one click. You can schedule tasks to run scripts, backups and more!
One click install Mod Solutions
Switch to and install mods at any time with one click, straight from our game control panel, latest updates are always available
Worldwide Coverage
Citadel Servers offers Network coverage worldwide, providing the very best network coverage in over
18

locations, Connect to your players all around the world, with a low latency infrastructure solution no matter where you or your players may be!
Deploy your Star Wars Jedi Knight: Jedi Academy game server
Click here to configure your server and have it deployed and live in minutes!