Spirit Animal Survival Game Hosting
What is Spirit Animal Survival
Spirit Animal Survival story is loosely based upon a North American Tribe Legend about the beginning of life and the evil trying to rule the world, that only can be faced and defeated by the spirit animal bearer.

You as one of the chosen ones you are faced with the destruction of your tribes village and most of the members captured by the evil hordes to be sacrificed to the Evil Lord in exchange for dark spirit powers that sets this half human half animal creatures above everyone else to rule us all.

You begin your journey to search for your people and to defeat those creatures to gain their Spirit Animal powers. Cleansing the world from this evil giving you the opportunity to restore, peace and harmony for everyone.
Read More
Spirit Animal Survival story is loosely based upon a North American Tribe Legend about the beginning of life and the evil trying to rule the world, that only can be faced and defeated by the spirit animal bearer.

You as one of the chosen ones you are faced with the destruction of your tribes village and most of the members captured by the evil hordes to be sacrificed to the Evil Lord in exchange for dark spirit powers that sets this half human half animal creatures above everyone else to rule us all.

You begin your journey to search for your people and to defeat those creatures to gain their Spirit Animal powers. Cleansing the world from this evil giving you the opportunity to restore, peace and harmony for everyone.

All our Game Server Services come with the features you need
Check out all of the essential Dedicated Game Servers game server features that come with your server rental
---
Instant server setup
Switch locations at any time
Full FTP access
Full database access
Scheduled server Scripts\Backups
Latest versions of supported mods
Control Panel - modify server settings
High Performance Xeon processors
integrated backup
Server passlocking / map changing
Advanced DDoS Protection
Highly Customized Tcadmin control panel
Change mods easily
Add admins in one click
Install mods & plugins easily
Access to 3rd-party tools
Custom launch parameters
Server status - Start / Stop / Restart
Access to our Game Server Management Panel
Our full featured, game control panel allows you to configure and customize your game servers. Install supported mods / maps, switch locations, and change any setting with one click.
Full Control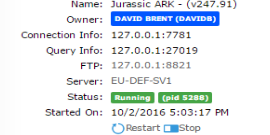 Start, Stop, Reinstall, you have full control over your server with one click. You can schedule tasks to run scripts, backups and more!
One click install Mod Solutions
Switch to and install mods at any time with one click, straight from our game control panel, latest updates are always available
Worldwide Coverage
Citadel Servers offers Network coverage worldwide, providing the very best network coverage in over
18

locations, Connect to your players all around the world, with a low latency infrastructure solution no matter where you or your players may be!
Deploy your Spirit Animal Survival game server
Click here to configure your server and have it deployed and live in minutes!