Red Orchestra 2 Game Hosting
What is Red Orchestra 2
Red Orchestra 2: Heroes of Stalingrad, the leading tactical multiplayer WWII shooter on the PC, will take the award winning Red Orchestra franchise into the next generation of gaming. Cutting edge graphics and audio built using the Unreal Engine 3, inventive features and streamlined realism will deliver an unrivalled tactical shooter experience. Heroes of Stalingrad will focus on the Battle of Stalingrad and the surrounding operations, both German and Russian, from July 1942 to February 1943. The game allows the player to experience one of the most brutal battles in all of human history. Delivering unrivalled accuracy and attention to detail, along with gritty, vicious combat in multiplayer modes the game will feature everything from quick, brutal firefights to more intricate and challenging tactical modes. Read More
Red Orchestra 2: Heroes of Stalingrad, the leading tactical multiplayer WWII shooter on the PC, will take the award winning Red Orchestra franchise into the next generation of gaming. Cutting edge graphics and audio built using the Unreal Engine 3, inventive features and streamlined realism will deliver an unrivalled tactical shooter experience. Heroes of Stalingrad will focus on the Battle of Stalingrad and the surrounding operations, both German and Russian, from July 1942 to February 1943. The game allows the player to experience one of the most brutal battles in all of human history. Delivering unrivalled accuracy and attention to detail, along with gritty, vicious combat in multiplayer modes the game will feature everything from quick, brutal firefights to more intricate and challenging tactical modes.
All our Game Server Services come with the features you need
Check out all of the essential Dedicated Game Servers game server features that come with your server rental
---
Instant server setup
Switch locations at any time
Full FTP access
Full database access
Scheduled server Scripts\Backups
Latest versions of supported mods
Control Panel - modify server settings
High Performance Xeon processors
integrated backup
Server passlocking / map changing
Advanced DDoS Protection
Highly Customized Tcadmin control panel
Change mods easily
Add admins in one click
Install mods & plugins easily
Access to 3rd-party tools
Custom launch parameters
Server status - Start / Stop / Restart
Access to our Game Server Management Panel
Our full featured, game control panel allows you to configure and customize your game servers. Install supported mods / maps, switch locations, and change any setting with one click.
Full Control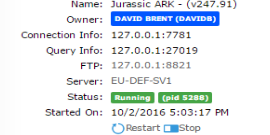 Start, Stop, Reinstall, you have full control over your server with one click. You can schedule tasks to run scripts, backups and more!
One click install Mod Solutions
Switch to and install mods at any time with one click, straight from our game control panel, latest updates are always available
Worldwide Coverage
Citadel Servers offers Network coverage worldwide, providing the very best network coverage in over
18

locations, Connect to your players all around the world, with a low latency infrastructure solution no matter where you or your players may be!
Deploy your Red Orchestra 2 game server
Click here to configure your server and have it deployed and live in minutes!