Garry's Mod Game Hosting
What is Garry's Mod
Garry's Mod is a physics sandbox. There aren't any predefined aims or goals. We give you the tools and leave you to play. You spawn objects and weld them together to create your own contraptions - whether that's a car, a rocket, a catapult or something that doesn't have a name yet - that's up to you. You can do it offline, or join the thousands of players who play online each day. If you're not too great at construction - don't worry! You can place a variety of characters in silly positions. But if you want to do more, we have the means. Read More
Garry's Mod is a physics sandbox. There aren't any predefined aims or goals. We give you the tools and leave you to play. You spawn objects and weld them together to create your own contraptions - whether that's a car, a rocket, a catapult or something that doesn't have a name yet - that's up to you. You can do it offline, or join the thousands of players who play online each day. If you're not too great at construction - don't worry! You can place a variety of characters in silly positions. But if you want to do more, we have the means. Features Free MySQL Database. FastDownload automaticly confiigured. Free mumble server on request. One click content installs.
Server Features
Garry's Mod Dedicated Server Features
One click mod installs
Install mods on your server with one click straight from steam workshop
Fast Download & MySQL
We support MySQL and Fast Download for your server, both are included.
Advanced Gamepanel
You can easily configure your server with our graphical editor, no need to edit complex text files with our powerful configuration tool.
API supported
We are one of few hosts that fully support GMOD Server API, run scripts alongside your mods with one click installs.
GMOD Graphical configuration tool
In our game control panel you can fully configure your server easily with sliders, just like ingame, no need to big text file editing!
Automatic Server and mod updating
Schedule automatic server and mod updates whenever you want, it can also detect if players are online, keeping you in the game!
All Garry's mod ( GMOD ) servers come with full Workshop Mod Support and more!
GMOD Fast Download Server MySQL Databases PhpMyAdmin to manage Databases One click install Metamod and Sourcemod One click install DarkRP gamemode Wiremod one click install Clockwork gamemode Protected From Source Query Attacks
And hundreds more one-click mods!
We also do custom import\configuration work for a small fee if you need assistance building your perfect server
Instant Setup ( Get playing in minutes!)
One-Click Mod/Plugin Install
Automatic mod updating
Mod/Custom Map Support
Update All Mods Function
FTP / File Manager Access
Configurable Options
Option to password servers.
No Max Memory Limits or Throttling
Start/Stop/Reinstall your server at a click of a button.
Fast & Friendly Support via a ticket system.
Tutorials and articles in our Knowledgebase.
Scorched Earth DLC Supported
Whitelist server support
The Center and Custom Maps Supported
Schedule Backups, Server Updates and more
Frequently Asked Questions
Find quick answers to the most commonly asked questions
All our Game Server Services come with the features you need
Check out all of the essential Dedicated Game Servers game server features that come with your server rental
---
Instant server setup
Switch locations at any time
Full FTP access
Full database access
Scheduled server Scripts\Backups
Latest versions of supported mods
Control Panel - modify server settings
High Performance Xeon processors
integrated backup
Server passlocking / map changing
Advanced DDoS Protection
Highly Customized Tcadmin control panel
Change mods easily
Add admins in one click
Install mods & plugins easily
Access to 3rd-party tools
Custom launch parameters
Server status - Start / Stop / Restart
Access to our Game Server Management Panel
Our full featured, game control panel allows you to configure and customize your game servers. Install supported mods / maps, switch locations, and change any setting with one click.
Full Control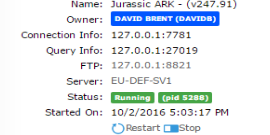 Start, Stop, Reinstall, you have full control over your server with one click. You can schedule tasks to run scripts, backups and more!
One click install Mod Solutions
Switch to and install mods at any time with one click from the Steam Workshop, straight from our game control panel, latest updates are always available
Other One Click Mod Install Example list:
mapmanager Metamod SourceMod Ulx Admin Mod DBugR Enhanced Perception Of Errors Awarn 2 (free) Prop Hunt DarkRP Modification Addon DarkRP Gamemode Clockwork Framework 0.93 Basewars Jailbreak Deathrun Clockwork Framework 0.92 Nutscript framework Nutscript HL2RP Guess Who Clockwork Framework 0.97 EasyLUA Utime 1.4 Gooey VFS Gcompute Armoured Combat Extras TDM car pack M9k Weapon pack Sickness models LoneWolfiesCars Advanced Combat Framework + Extras Wiremod Wiremod Extras Advanced Duplicator 2 ad2filestream module bass2 Mysqloo v9.5 Tmysql4 1.01 Bromstock Enginespew XDRM Streams Carter Addons Pack Code Cap resource files Cap Fonts Spacebuild Project Internet_Radio Discord
And hundreds more one-click mods!
We also do custom import\configuration work for a small fee if you need assistance building your perfect server
Worldwide Coverage
Citadel Servers offers Network coverage worldwide, providing the very best network coverage in over
18

locations, Connect to your players all around the world, with a low latency infrastructure solution no matter where you or your players may be!
Deploy your Garry's Mod game server
Click here to configure your server and have it deployed and live in minutes!