ECO Game Dedicated Server Game Hosting
What is ECO Game Dedicated Server
Create a civilization capable of stopping a meteor without destroying the ecosystem in the process. Read More
Enter the world of Eco, a fully simulated ecosystem bustling with thousands of growing plants and animals living their lives. Build, harvest, and take resources from an environment where your every action affects the world around you. An imminent meteor strike threatens global destruction. Can you save the world without destroying it in the process?

Construct buildings and towns, tend to your farm, hunt wildlife, build infrastructure and transportation, craft clothing, build power plants, and research new technologies. Specialize in a craft and trade your goods to other players. Develop your civilization and sculpt your planet.

As your civilization grows, you'll need to analyze data from the simulation; evaluating the impact you have on your world. Use this data as evidence in proposed laws, restricting harmful activities without disrupting the advancement of technology. Balance your individual needs with the needs of community, all while maintaining the state of the ecosystem. The future of your world is in your hands.

All our Game Server Services come with the features you need
Check out all of the essential Dedicated Game Servers game server features that come with your server rental
---
Instant server setup
Switch locations at any time
Full FTP access
Full database access
Scheduled server Scripts\Backups
Latest versions of supported mods
Control Panel - modify server settings
High Performance Xeon processors
integrated backup
Server passlocking / map changing
Advanced DDoS Protection
Highly Customized Tcadmin control panel
Change mods easily
Add admins in one click
Install mods & plugins easily
Access to 3rd-party tools
Custom launch parameters
Server status - Start / Stop / Restart
Access to our Game Server Management Panel
Our full featured, game control panel allows you to configure and customize your game servers. Install supported mods / maps, switch locations, and change any setting with one click.
Full Control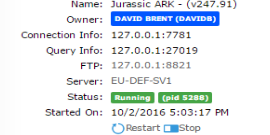 Start, Stop, Reinstall, you have full control over your server with one click. You can schedule tasks to run scripts, backups and more!
One click install Mod Solutions
Switch to and install mods at any time with one click, straight from our game control panel, latest updates are always available
Worldwide Coverage
Citadel Servers offers Network coverage worldwide, providing the very best network coverage in over
18

locations, Connect to your players all around the world, with a low latency infrastructure solution no matter where you or your players may be!
Deploy your ECO Game Dedicated Server game server
Click here to configure your server and have it deployed and live in minutes!