Battalion 1944 Game Hosting
What is Battalion 1944
Battalion recaptures the core of classic competitive shooters & refines the 'classic' FPS feel for the next generation. Focusing on 5v5 infantry combat, where precise flick shots with your Kar98, covering fire with your Thompson and fluid movement are key to clutching every round for your team. Read More
Battalion 1944 recaptures the core of classic competitive shooters and refines the 'classic' FPS feel for the next generation. Focusing on 5v5 infantry based combat, where precise flick shots with your Kar98, covering fire with your Thompson and and fluid player movement are key to clutching every round for your team. Band together and fight with your team in the premiership of competitive WW2 FPS.

Battalion is currently in development alongside the community, reconstructing Unreal Engine 4 to reintroduce classic FPS quirks to create a modern shooter that feels like an old school classic. This heart-thumping multiplayer experience is being crafted by designers who have grown up playing competitive Call of Duty, Enemy Territory and Counter Strike; alongside community feedback from professional FPS players and over 10,000 early adopters who have been shaped by the same gaming experience.

With a dedicated server browser & LAN support, plans for community modding & team based ranked stats & competitive matchmaking; Battalion 1944 is a classic competitive shooter with an emphasis on raw skill. No grinding for overpowered gameplay changing unlocks, no unfair kill streaks, just you and your skill as a player.

Battalion 1944 resurges old school FPS back into the modern gaming spotlight in the only true spiritual successor to the great multiplayer shooters of the past. In Battalion, it's down to skilled soldiers like you to make it to the top.

All our Game Server Services come with the features you need
Check out all of the essential Dedicated Game Servers game server features that come with your server rental
---
Instant server setup
Switch locations at any time
Full FTP access
Full database access
Scheduled server Scripts\Backups
Latest versions of supported mods
Control Panel - modify server settings
High Performance Xeon processors
integrated backup
Server passlocking / map changing
Advanced DDoS Protection
Highly Customized Tcadmin control panel
Change mods easily
Add admins in one click
Install mods & plugins easily
Access to 3rd-party tools
Custom launch parameters
Server status - Start / Stop / Restart
Access to our Game Server Management Panel
Our full featured, game control panel allows you to configure and customize your game servers. Install supported mods / maps, switch locations, and change any setting with one click.
Full Control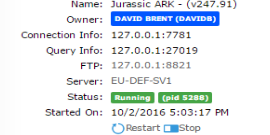 Start, Stop, Reinstall, you have full control over your server with one click. You can schedule tasks to run scripts, backups and more!
One click install Mod Solutions
Switch to and install mods at any time with one click, straight from our game control panel, latest updates are always available
Worldwide Coverage
Citadel Servers offers Network coverage worldwide, providing the very best network coverage in over
18

locations, Connect to your players all around the world, with a low latency infrastructure solution no matter where you or your players may be!
Deploy your Battalion 1944 game server
Click here to configure your server and have it deployed and live in minutes!