Atlas Game Hosting
What is Atlas
ATLAS: The ultimate survival MMO of unprecedented scale with 40,000+ simultaneous players in the same world. Join an endless adventure of piracy & sailing, exploration & combat, roleplaying & progression, settlement & civilization-building, in one of the largest game worlds ever! Explore, Build, Conquer! From the creators of ARK Survival Evolved comes ATLAS - a massively multiplayer first-and-third-person fantasy pirate adventure. ATLAS will host up to 40,000 players exploring the same Globe simultaneously, with an unprecedented scale of cooperation and conflict! Stake your claim in this endless open world as you conquer territory, construct ships, search for buried treasure, assemble forts, plunder settlements and hire crew to join your powerful growing armada. Start small then expand your spheres of influence from a small island, up to an unstoppable pirate empire that spans across the oceans. Wage battle against enemy fleets as you singlehandedly command large ships of war using the captaining system (or divide up to the responsibilities among your trusted lieutenants), or take control of any weapon directly with your own character. Dive deep into the briny water to explore permanent sunken wrecks and recover salvage, unearth the loot from procedurally generated Treasure Maps and challenge zones, or complete challenging main questlines. Team up with other aspiring adventurers and sail into the vast ocean to discover new lands rich with region-specific elements, tame exotic natural and mythical creatures, raid forgotten tombs, confront powerful ancient gods and even build and administer your own colonies, cities, and civilisations to dominate the ATLAS in this ultimate quest for fortune and glory! Read More
ATLAS: The ultimate survival MMO of unprecedented scale with 40,000+ simultaneous players in the same world. Join an endless adventure of piracy & sailing, exploration & combat, roleplaying & progression, settlement & civilization-building, in one of the largest game worlds ever! Explore, Build, Conquer! From the creators of
ARK Survival Evolved
comes
ATLAS
- a massively multiplayer first-and-third-person fantasy pirate adventure. ATLAS will host up to 40,000 players exploring the same Globe simultaneously, with an unprecedented scale of cooperation and conflict! Stake your claim in this endless open world as you conquer territory, construct ships, search for buried treasure, assemble forts, plunder settlements and hire crew to join your powerful growing armada. Start small then expand your spheres of influence from a small island, up to an unstoppable pirate empire that spans across the oceans. Wage battle against enemy fleets as you singlehandedly command large ships of war using the captaining system (or divide up to the responsibilities among your trusted lieutenants), or take control of any weapon directly with your own character. Dive deep into the briny water to explore permanent sunken wrecks and recover salvage, unearth the loot from procedurally generated Treasure Maps and challenge zones, or complete challenging main questlines. Team up with other aspiring adventurers and sail into the vast ocean to discover new lands rich with region-specific elements, tame exotic natural and mythical creatures, raid forgotten tombs, confront powerful ancient gods and even build and administer your own colonies, cities, and civilisations to dominate the ATLAS in this ultimate quest for fortune and glory!
Server Features
Atlas Dedicated Server Features
One click mod installs
Install mods on your server with one click straight from steam workshop
All DLC supported
We support all DLC expansions, maps, conversions and mods with Atlas.
Multi Server Clustering support
We support multi-server clustering support, link 2 or more servers together, for free. Travel between them seamlessly.
Atlas API supported
We are one of few hosts that fully support Atlas Server API, run scripts alongside your mods with one click installs.
Atlas Graphical configuration tool
In our game control panel you can fully configure your server easily with sliders, just like ingame, no need to big text file editing!
Automatic Server and mod updating
Schedule automatic server and mod updates whenever you want, it can also detect if players are online, keeping you in the game!
All Atlas DLC Expansions and DLC Maps included
Atlas Server Grid Support Atlas Mutli server clustering Support Atlas custom map modding supported Atlas Blackwood Map DLC supported
And hundreds more one-click mods!
We also do custom import\configuration work for a small fee if you need assistance building your perfect server
Instant Setup ( Get playing in minutes!)
Atlas Remote Built-In
One-Click Mod/Plugin Install
Automatic mod updating
Mod/Custom Map Support
Update All Mods Function
FTP / File Manager Access
Configurable Options
Option to password servers.
No Max Memory Limits or Throttling
Start/Stop/Reinstall your server at a click of a button.
Fast & Friendly Support via a ticket system.
Tutorials and articles in our Knowledgebase.
Clustering Supported
Whitelist server support
The Center and Custom Maps Supported
Schedule Backups, Server Updates and more
Frequently Asked Questions
Find quick answers to the most commonly asked questions
All our Game Server Services come with the features you need
Check out all of the essential Dedicated Game Servers game server features that come with your server rental
---
Instant server setup
Switch locations at any time
Full FTP access
Full database access
Scheduled server Scripts\Backups
Latest versions of supported mods
Control Panel - modify server settings
High Performance Xeon processors
integrated backup
Server passlocking / map changing
Advanced DDoS Protection
Highly Customized Tcadmin control panel
Change mods easily
Add admins in one click
Install mods & plugins easily
Access to 3rd-party tools
Custom launch parameters
Server status - Start / Stop / Restart
Access to our Game Server Management Panel
Our full featured, game control panel allows you to configure and customize your game servers. Install supported mods / maps, switch locations, and change any setting with one click.
Full Control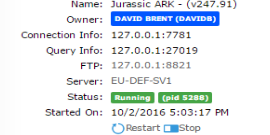 Start, Stop, Reinstall, you have full control over your server with one click. You can schedule tasks to run scripts, backups and more!
One click install Mod Solutions
Switch to and install mods at any time with one click, straight from our game control panel, latest updates are always available
Other One Click Mod Install Example list:
Ocean Map Blackwood DLC Map Atlas Map Clustering support Custom Item Stacks Eco's RP Door Peachy Atlas Furniture [SPUK] Advanced Structures Automated Atlas 1.05 Peachy Atlas Decor ATLAS Architect Total Structures Better Cages & Traps Figureheads and Ship Essentials Paintable Atlas Interior Unlockable Submarine Better Bridges DarksideRP Additions
And hundreds more one-click mods!
We also do custom import\configuration work for a small fee if you need assistance building your perfect server
Worldwide Coverage
Citadel Servers offers Network coverage worldwide, providing the very best network coverage in over
18

locations, Connect to your players all around the world, with a low latency infrastructure solution no matter where you or your players may be!
Deploy your Atlas game server
Click here to configure your server and have it deployed and live in minutes!