Valheim Plus Mod Game Hosting
What iss Valheim Plus Mod
Getting started with Valheim Plus
To play the Valheim Plus mod framework you need a copy of
Valheim
which can be bought on steam or a key website, once you have that you can download the mod from our website. There is a client and a server version of this mod framework.
Installing Valheim Plus Mod
Server Version/Files
If you have a
Valheim
Game server with us, we provide this as a one click install for Valheim Plus that you can find in the game panel, we also provide many submods. Simply clicking Uninstall/Install will retrieve the latest version of this in our game panel.
Client Files for Valheim Plus
Client Files for the mod
Go to the Valheim Plus releases page and download the version you want. Generally, you will just want the latest version ( Windows Client version ). You then need to locate your files in your steam directory for Valheim, Usually this is located in C:\Program Files\Steam\steamapps\common\valheim but this location can change based on your Terraria installation. You can also do this via the Steam application. Find Valheim in your steam library, right click it and open the Properties window. Navigate to the 'Local files' tab and click 'Browse local files' Right click the downloaded .zip file you downloaded and check it's not blocked by clicking Properties. Make sure to hit unblock if it says so at the bottom. If this does not appear, close the window. Extract the contents of the .zip to where you download it. You can use applications such as Winrar or 7zip to do this, Windows 10 should also be able to do this by itself. Now select all the extracted files and copy all of them to the Valheim folder you located. Make sure to let it overwrite files when it asks.
Your client version of Valheim should now be installed!
Valheim Plus Description
Valheim Plus is a HarmonyX Mod aimed at improving the gameplay quality of Valheim. The mod includes several different main features including modifiers to ingame stats of players, buildings and entities and a sophisticated system to build and place objects with high precision and a system to modify already placed objects with high precision. The general goal is to provide V+ as a base modification for your gameplay to increase quality of life, change difficulty or have a better experience in general. The mod also comes with a version and configuration control system for servers and users, allowing servers to make sure that only people with the same configuration are able to join their servers. This mod also allows you to extend beyond 10 players and allows you to disable the password to have a public server, greatly expanding the possibilities of having a large Valheim community server.
All our Game Server Services come with the features you need
Check out all of the essential game server features that come with your server rental
---
Instant server setup
Switch locations at any time
Full FTP access
Full database access
Scheduled server Scripts\Backups
Latest versions of supported mods
Control Panel - modify server settings
High Performance Xeon processors
SSD drives
integrated backup
Server passlocking / map changing
Advanced DDoS Protection
Highly Customized Tcadmin control panel
Change mods easily
Add admins in one click
Install mods & plugins easily
Access to 3rd-party tools
Custom launch parameters
Server status - Start / Stop / Restart
Access to our Game Server Management Panel
Our full featured, game control panel allows you to configure and customize your game servers. Install supported mods / maps, switch locations, and change any setting with one click.
Full Control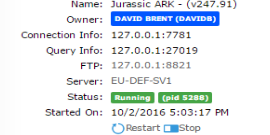 Start, Stop, Reinstall, you have full control over your server with one click. You can schedule tasks to run scripts, backups and more!
Worldwide Coverage
Citadel Servers offers Network coverage worldwide, providing the very best network coverage in over
18

locations, Connect to your players all around the world, with a low latency infrastructure solution no matter where you or your players may be!
Deploy your Valheim Plus Mod game server
Click here to configure your server and have it deployed and live in minutes!